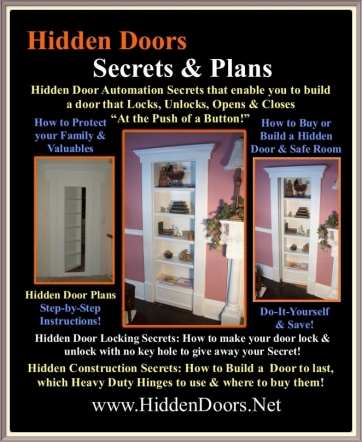 The Hidden Doors Manual has been expanded into 5 Parts.
It tells the reader how to build or buy a Hidden Door that will last the test of time without wasting their hard earned money and time and the room behind it becomes their safe room! The Safe Room can be a Panic Room to protect the family in case of a home break-in, a Vault for valuables or one can hide a Safe!
"See the Master Craftsman's work & learn their Trade Secrets!"
After all, no home is complete without a safe & secure hidden Panic Room or Vault to protect the Family or Valuables.
_______________________________________________

Part 1. Introduction to Hidden Doors
and the $23,000 Box Office Hidden Door Proposal from the leading quality Hidden Door Builder!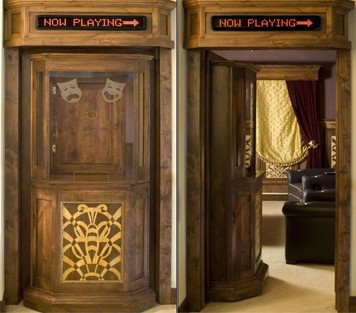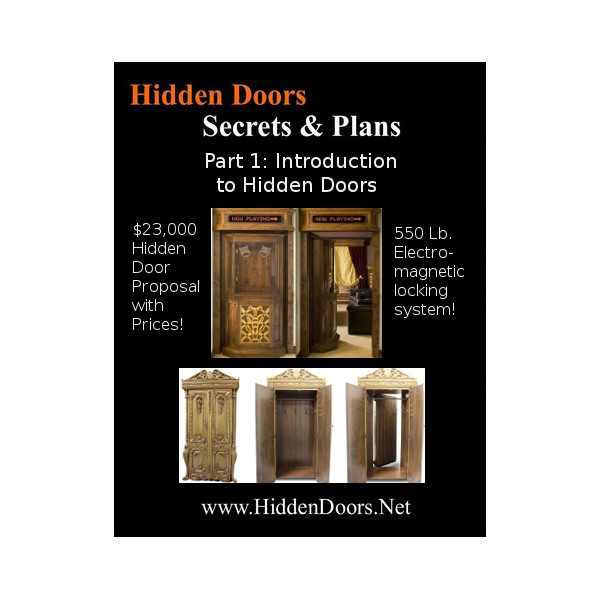 Introduction with $23,000 Proposal $24.99

(Plans with Instant Access)
Contains a $23,000 proposal from one of the leading hidden door builders who employs Master Craftsman and Engineers to build their hidden doors to last! The proposal is for the Theater Ticket Box Office (Photo 1 above) that can open automatically. The proposal contains the prices for an electromagnetic locking system, book triggering device, and much more.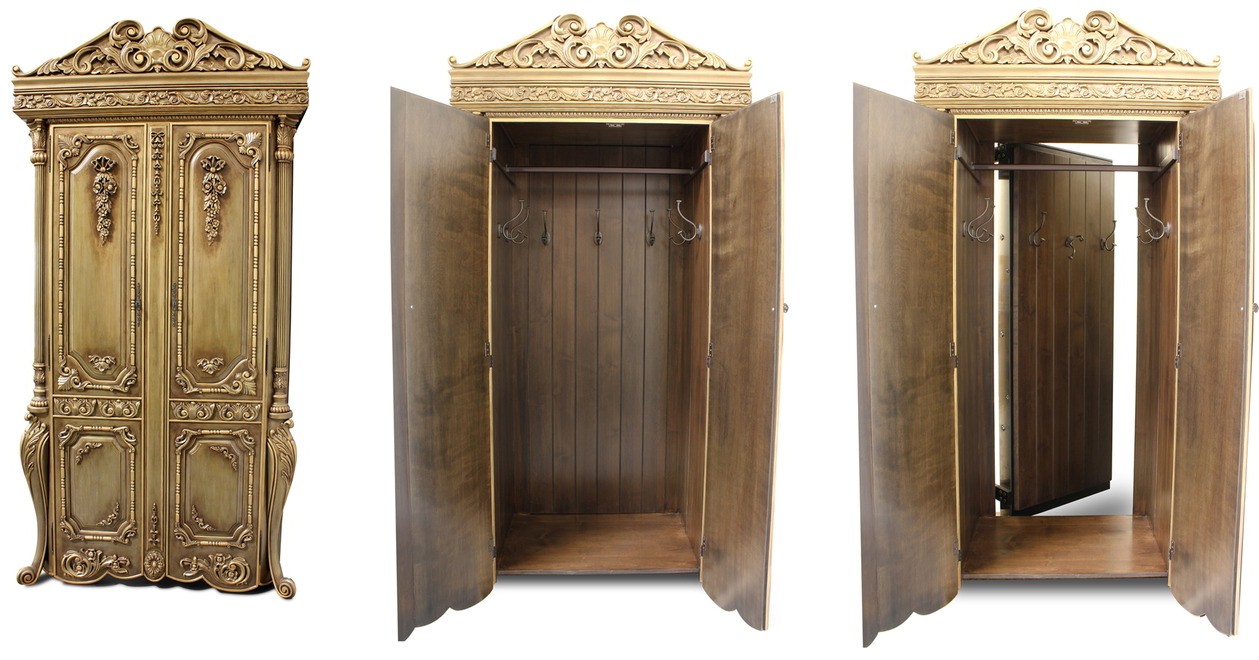 This company also builds the Wardrobe (above) which is much less expensive. Who they are & much more is revealed in Part 1
______________________________________________
Part 2. The Improvised Hidden Door
Mirror & Bookcase In-swing (below) was built by a Carpenter and is an easy DIY Project for anyone.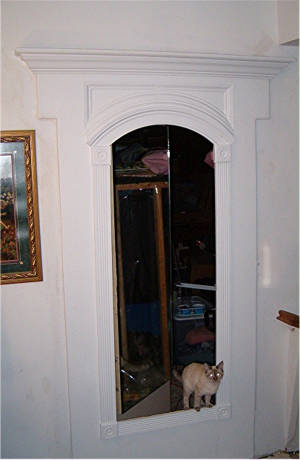 Improvised Mirror & Bookcase (Easy DIY Project) $24.99

(Plans with Instant Access)
"This easy and inexpensive option enables nearly anyone to build hidden doors through-out their home in the form of bookcases and mirrors, however, with a little modification, one can build the hidden door to look like nearly anything from a Pool Que rack or a Gun rack > to a lighted Vase niche or Display case!" You can even match the trim in your home so that it blends in or by adding decorative trim, you can customize your door however you like! Create your own design! Your own unique hidden door! The Plans will show you how!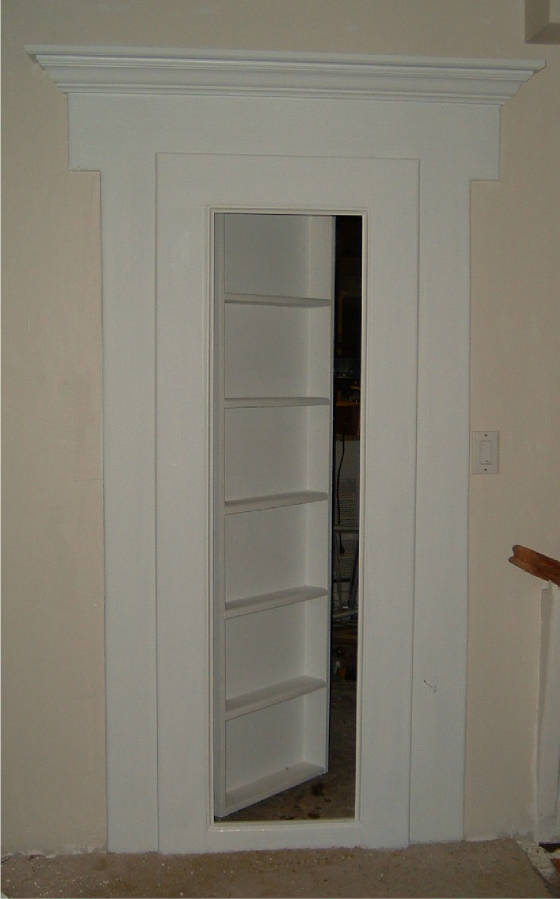 The Improvised Hidden Door Bookcase (above) can take nearly any form that you desire!
_________________________________________________
Part 3. The Light Duty Bookcase
The Hidden Door Out-swing (below) was built by a Master Cabinet Maker and works in almost any location in the home!

"The Hidden Hinges and where to buy them
are revealed!"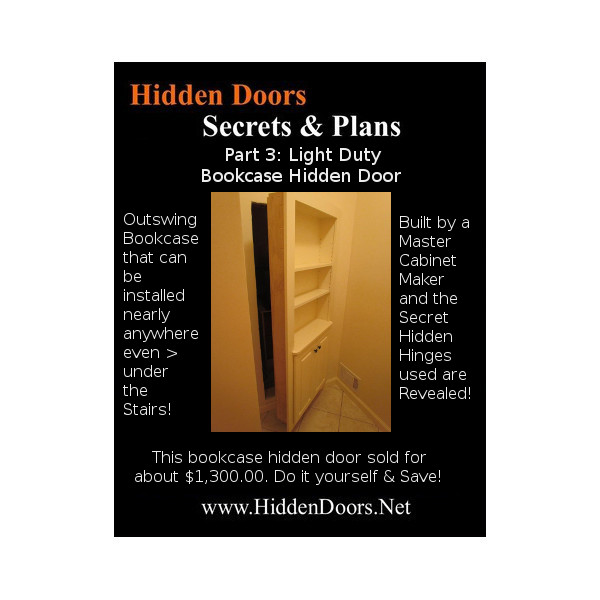 Light Duty Bookcase (Out-Swing) $24.99

(Plans with Instant Access!)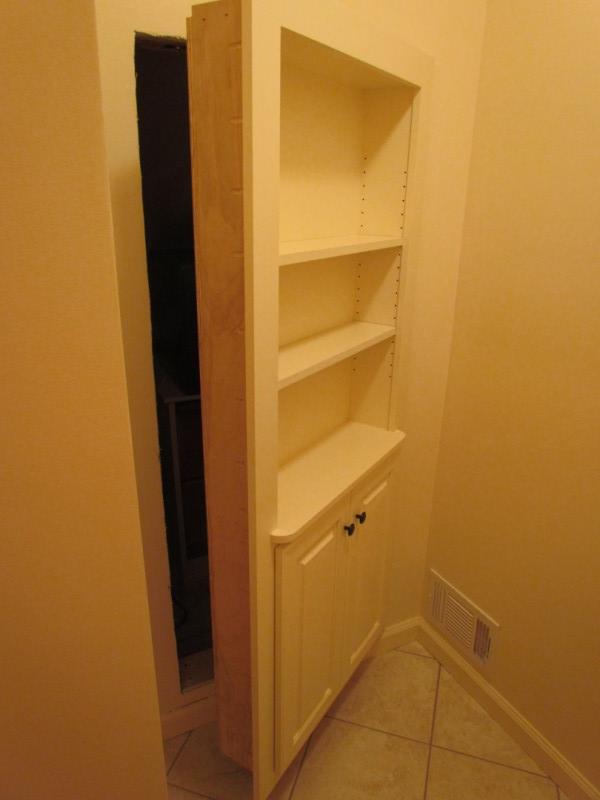 The bookcase (above) swings outward and as a result, it can be installed nearly anywhere in the home, to include under the stairs! It was built by a Master Cabinet Maker and retails for about $1,300.00. The Cut List with Materials that he used are included in the Plans along with photos. These plans can be used at home or taken to a local cabinet shop for a quote on preparing the parts for you to assemble yourself, thus saving you hundreds!
______________________________________________

Part 4. The Heavy Duty Victorian
The Heavy Duty Bookcase In-swing (below) was built by a Master Carpenter to hold the full weight of real books!

Heavy Duty Bookcase (In-Swing) $24.99

(Plans with Instant Access!)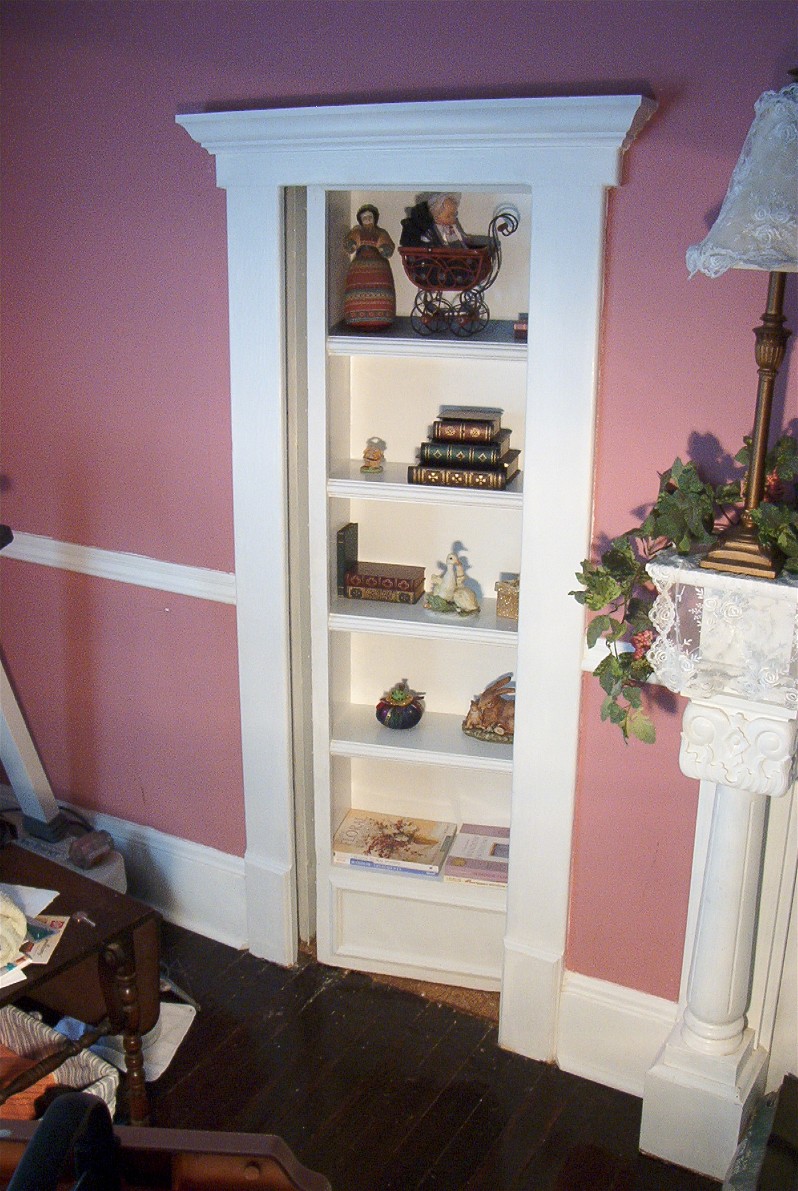 The Heavy Duty Bookcase (above) was built by a Master Carpenter onsite and it is designed to hold up to 200 pounds of books! How it was built to last without falling apart due to the load is revealed in Part 4.
_____________________________________________
Part 5. The Hidden Door Trade Secrets
This includes the Master Craftsman Trade Secrets needed to make your door lock, unlock, open and close automatically "at the push of a button".
"And how to make your door lock and unlock remotely with no key hole to give away your secret is also revealed as well as the proper Heavy Duty Hidden Hinges to use!"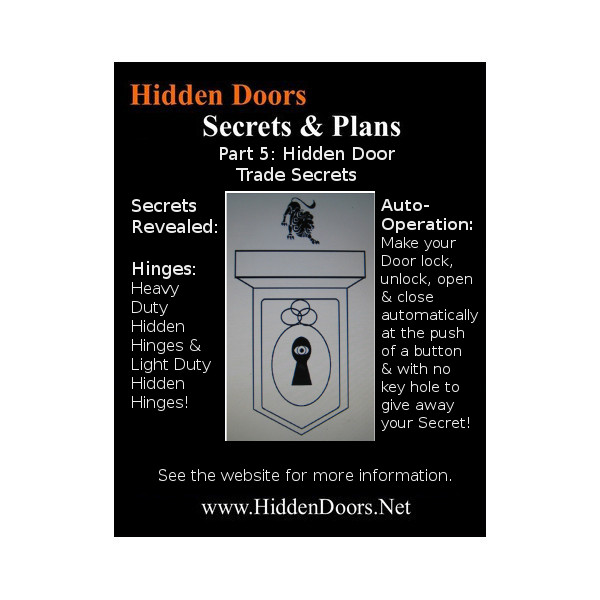 Hidden Door Trade Secrets $24.99
(Plans with Instant Access!)
"Once you build or buy your hidden door, the room behind it can become your safe room for protecting your family or valuables!"
______________________________________________

This includes all 5 Parts of the Manual covered above and the new for just $99.99.
Hidden Doors Manual "Secrets and Plans"
30 Day Money Back Guarantee!
+ Shipping and Handling included!
$99.99 CD
Email: HiddenDoorPlans@HiddenDoors.Net
HiddenDoors.Net * All Rights Reserved. Disclaimer: This product is intended for protecting people and valuables. It is not intended for any illegal purposes and we bear no responsibility for any such misuse. Thank you.